1
« on: 06 December, 2017, 04:06:26 pm »
Hi All,
I haven't been here in a while. So sorry if this seems a bit mercenary.
I've got a copy of the huge and very rare Brian Bolland Judge Dredd poster from the 80s. It's about 5' tall.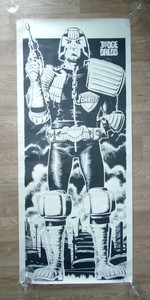 If I've remembered right, it was only available in the old Forbidden Planet in Denmark St.
I have an eBay listing
here
. I'm asking £200 as that's what a couple of these have sold for recently but I'd do a deal here if any of you real fans want it. Please do read the listing for condition.