1
« on: 10 January, 2019, 10:05:58 am »
Prog 1695: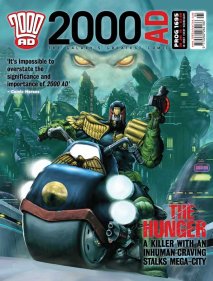 Invasion
Judge Dredd: The Connoisseur (Part 1)
Start of a new Dredd story about a new serial killer on the scene, with Exploding Cit Phenomenon as a side story - was pretty good, and I'll probably re-read the next few parts now.
The Red Seas: Hell and High Water (Part 8)
Bit of a character-development episode, with a revelation from Cerberus at the end setting up the finale. A slow episode, but with promise of action to come!
Sinister Dexter: The Why-Shaped Cut (Part 3)
Fairly quiet episode dealing with the maneuverings between Apellido and The Mover.
Savage: Crims (Part 11)
The first American assault has failed, so Savage tries to single-handedly infiltrate a Volg particle accelerator. Once again, not much action...
Strontium Dog: The Life and Death of Johnny Alpha (Part 7)
Feral explaining how he tried to get Johnny resurrected after the events of "The Final Solution".
So, a prog from a good era of 2000 AD, but all these stories were a bit... quiet, apart from Dredd.