31
« on: 15 November, 2006, 10:01:14 PM »
OK, entries all seem to be in so it's voting time again.
As always, pick your three favourites from the images below then post them in order from first to third. First gets 5 points, second gets 3 points and third 1 point. The votes will get tallied up and the three entries with the most votes will take the top three places. Voting will be open until next Wednesday with the winners being announced shortly after that.
54 Jones - sorry, but the Zenith & Bonjo piece is out of contention because it breaks the rules set out at the beginning. However, you are still due a prize from the last comp, and while you passed on that last time, I'd be chuffed if you'd take it now for turning out such a nice piece. Hope that sounds reasonable!
As for the December comp, I'm afraid I've gone ahead & picked the theme - hope it meets with the board's approval! I'll start up a fresh thread for that ASAP, and you can look forward to some bumper prizes for Christmas.
Best of luck to all who entered this comp - now get voting!
------------------------------------
------------------------------------
54 JONES - BONJO VS. ZENITH
(Not eligible for the vote, but it deserves to be seen again!)
ALBION83UK - ACE TRUCKING VS. ARMOURED GIDEON
BART DIAZ - LOW LIFE VS. LENNY ZERO
BOLT01 & RAC - SLAINE VS. STRONTIUM DOG
BUTTONMAN - STONE ISLAND VS. STRONTIUM DOG
CARLSBORG EXPERT - MISSIONARY MAN VS. METALZOIC
DOG DEEVER JR - ACE TRUCKING VS. ABC WARRIORS
JOHNNYSTRESS - DURHAM RED VS. DEMARCO / MELTDOWN MAN VS. MOTHER EARTH
(Johnnystress also turned out a lovely couple of illos that didn't quite fit within the rules but are deserving of another look - Gronk Vs. Grobbendonk and Stix Vs. Stix Vs. Stix!)
LORD RUNNING CLAM - SLAINE VS. SATANUS
RADIATOR - SLAINE VS. SKIZZ
SI PENTER - ANDERSON VS. ABC WARRIORS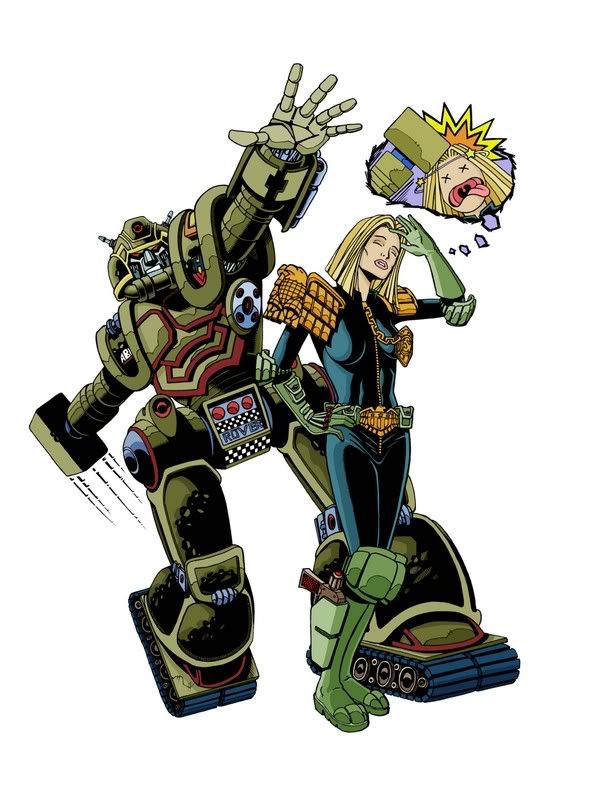 THRYLLSEEKER - SLAINE VS. SATANUS / ACE TRUCKING VS. ANT WARS
------------------------------------
------------------------------------
OK - if I've missed anyone, or mislabelled any of the match-ups or if there's anything else that needs changed, let me know. Otherwise we'll see how the voting goes and tot everything up next week.