4246
« on: 13 May, 2012, 05:52:53 PM »
Aha, a tattoo thread! Great to see people here with loads of ink. I keep seeing reference to Rufus's tattoos, but the pic links seem to have expired? I'm curious to see - does anyone have a working link?
Anyway, mine is very much a work in progress, but here it is so far: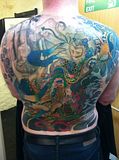 Currently Simon, my tattooist, is moving studios so it's going to be another month before he continues with it. He's darkening the background and finishing up the colours, then it's done.