31
« on: 14 September, 2022, 11:06:46 PM »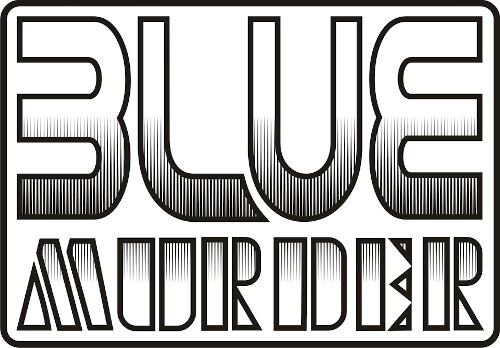 BLUE MURDER
BOOK ONE: NEW BLUE.
Book One, Part One: Shades of Blue.
by Sharky
++++
PAGE ONE (6F)(NO TITLES).
PAGE ONE, FRAME ONE: A shadowed figure descends on a rope into a long, dark, silent shaft deep in the earth. The only illumination comes from his torch. His outline looks a bit like Rogue Trooper with extra gear – but it's not him, we're just teasing the reader a bit. This is Eldrion Karassus, the Indiana Jones of geneticists – you can reveal that it's not Rogue whenever and however you like – or maybe not use the idea at all! (The name of the narrator is Vane, who is not present here.)
CAP (VANE): "WAY I HEARD IT, THERE WERE LOTS OF OLD DEFENCE SYSTEMS..."
++++
PAGE ONE, FRAME TWO: Karassus has reached the bottom without incident and unhitches the rope. He's in an ancient, 1,500 year old Genetic Infantry lab which has been extensively damaged and eroded over the years by earthquakes, floods and animals – some of the ancient machinery has even been enveloped in stalagmites and stalactites. There is no power and none of these machines or computers will ever work again – except one. The only undamaged thing is the Gestation Pod unit, which was designed to last this long and even longer. There's no need to reveal all this at once, of course.
CAP (VANE): "...YOU KNOW – LASERS, TASERS, MASERS, GRAZERS... EVEN MISSILES, SOMEBODY SAID."
++++
PAGE ONE, FRAME THREE: Karassus explores the ancient facility.
CAP (VANE): "WISH I'D BEEN THERE, THOUGH – RIGHT FROM THE START, YOU KNOW?"
++++
PAGE ONE, FRAME FOUR: Nothing works. Everything's dead. Ruined. Decayed.
CAP (VANE): "I WOULD'VE BRAVED ANY NUMBER OF DEFENCES FOR THAT PRIVILEGE."
++++
PAGE ONE, FRAME FIVE: The only intact thing is the Gestation Pod, in which Abel, Baker and Charlie will develop from single cells to full maturity as soon as the pod is activated. One of the pod's sub-systems has activated.
CAP (VANE): "SHOWS YOU HOW IMPORTANT THEY ARE, THOUGH – TO BE DEFENDED SO VIGOROUSLY."
POD COMPUTER (JAG): CONTACT DETECTED. SCANNING FOR ACTIVATION CODE. NOT FOUND. SCANNING FOR SECONDARY CODE. NOT FOUND.
++++
PAGE ONE, FRAME SIX: Karassus touches the pod's control panel, activating it merely at his touch.
CAP (VANE): "THAT'S WHY WE'VE GOT TO DEFEND THEM NOW."
POD COMPUTER (JAG, JOIN): SYNCHRONISATION COMPLETE. INTERFACING WITH TACTICAL ALGORITHMS. COMPLETE.
KARASSUS (IF THERE'S ROOM): WHAT THE...
POD COMPUTER (JAG): INITIATING CODE ONE GESTATION SEQUENCE.
++++
++++
PAGE TWO (6F).
PAGE TWO, FRAME ONE: Later on, outside. A battered old truck, driven by Karassus and with his assistant, Dr Barla, in the passenger seat and the Gestation pod in the back under a tarpaulin, bounces along a dusty, lonely desert highway. (Maybe there can be some clues that this is Nu-Earth fifteen hundred years after the war ended by having distant mountains with craters blown out of them or hills formed around huge, rotting old tanks and stuff? The Wormhole has shrunk considerably over the centuries and is now no more than a small black dot in the sky – no bigger than a large crow in flight.)
CAP (VANE): "PROFESSOR KARASSUS HAD BEEN CORRECT. HE FOUND A POD – HE SAID IT WAS THE POD."
++++
PAGE TWO, FRAME TWO: From a high place, a Xentrikka Sentinel espies the truck, which is small in the distance. The Sentinel is a kind of alien police unit, whose primary duty is to prevent any unauthorized travel to or from the planet. After that, it pretty much isn't concerned what anyone does. I see it as a kind of cross between one of the soldier bugs from 'Starship Troopers' and a Terminator – but more bug than robot. Incredibly fast, incredibly resilient and incredibly lethal.
CAP (VANE): "MAYBE THE BLUE PRIESTS WERE RIGHT, AFTER ALL."
++++
PAGE TWO, FRAME THREE: The Sentinel rushes towards the truck at incredible speed. Karassus is more annoyed than concerned. Dr Barla is worried – but then, Dr Barla is always worried.
CAP (VANE): "MAYBE THE GOD OF WAR DID SEND THEM TO FREE US."
++++
PAGE TWO, FRAME FOUR: The Sentinel has ordered the vehicle to a stop and Karassus has complied. Nothing else moves in the desert silence.
CAP (VANE): "I DON'T CLAIM TO KNOW."
++++
PAGE TWO, FRAME FIVE: Karassus shows the Sentinel his travel authorization papers. The Sentinel scans them minutely, maybe with a light-beam or something.
CAP (VANE): "ALL I DO KNOW IS THAT, RIGHT NOW, THEY MAYBE CAN FREE US."
++++
PAGE TWO, FRAME SIX: Satisfied, the Sentinel returns towards its vantage point at incredible speed, leaving the truck free to continue bouncing along its lonely way.
CAP (VANE): "BUT NOBODY WILL LISTEN TO ME, KILLY - THEY ALL THINK I'M MAD."
++++
++++
PAGE THREE (6F).
PAGE THREE, FRAME ONE: We are inside the 'Mind-Space' – the virtual reality into which the developing minds of the three gestating Genetic Infantry clones have been 'plugged' in order to train them. Although still physically embryos, their military training begins from the moment their consciousnesses are activated. At the moment it's just a featureless black place – all shadows within shadows and nothing but the computer's voice to perceive.
COMPUTER VOICE: INITIAL CONSCIOUSNESS LEVELS ACHIEVED. DOWNLOADING LINGUISTIC AND COGNITIVE DATABASES.
++++
PAGE THREE, FRAME TWO: A hologram begins to form in the gloom, the only source of light or interest in the whole, infinite place.
COMPUTER VOICE: DONE.
COMPUTER VOICE: INITIATING DRILL SERGEANT.
++++
PAGE THREE, FRAME THREE: The hologram resolves into the Drill Sergeant, who will train the clones from Day One to be the perfect soldiers – the clones will literally be 'born ready'. The Sergeant himself is the Paragon of military instructors – he 'knows' everything about war and was constructed using the scanned brain patterns of thousands of combat veterans of all ranks as well as a fair few tacticians, military engineers and all manner of other people involved in a typical, or atypical, war. Maybe he's like the sergeant from 'Full Metal Jacket' but in G.I. form? He is taking a moment to inspect his appearance – a soldier has to be smart!
COMPUTER VOICE: DRILL SERGEANT RUNNING.
SERGEANT: HMN.
++++
PAGE THREE, FRAME FOUR: The Drill Sergeant stands stiffly at ease in an entirely proper military stance.
COMPUTER VOICE: TRAINING WILL NOW COMMENCE.
SERGEANT: SOLDIERS – FOR SOLDIERS YOU ARE; THERE ARE NO CADETS HERE – WELCOME TO FORT MINDSPACE.
++++
PAGE THREE, FRAME FIVE: The Sergeant manifests a big gun (or something more militarily impressive) out of thin air to demonstrate his words.
SERGEANT: IN THIS PLACE, I WILL TRAIN YOU TO MILITARY PERFECTION. IN THIS PLACE, I CAN MAKE ANYTHING REAL.
SERGEANT (JOIN): IN THIS PLACE, YOU WILL SUFFER, YOU WILL BE TESTED TO YOUR LIMITS AND YOU WILL LEARN.
++++
PAGE THREE, FRAME SIX: The Drill Sergeant, unarmed now, holds up a hard, scarred fist as he begins lesson one.
SERGEANT: YOU WILL BE BORN WITH THE EXPERIENCE AND REFLEXES OF TWENTY YEAR COMBAT VETERANS. I WILL SEE TO THAT.
SERGEANT: MODULE ONE; SUB-UNIT ONE – BASIC SELF-AWARENESS OF THE COMBAT SOLDIER.
SERGEANT (JOIN): THIS... IS CALLED A FIST...
++++
++++
PAGE FOUR (6F).
PAGE FOUR, FRAME ONE: In the spacious but basic gene-farm of the Fiyyaland Bluerays Gladiatorial Club, where gladiators are grown in tanks (most don't reach maturity – it's a hit-and-miss affair these days, more art than science). Karassus and Dr Barla have just finished unloading the Gestation Pod from the back of the truck and lowered it to the floor. It is still largely covered by a tarpaulin so we can't see the G.I.s developing inside. Karassus is trying to convince the Gladiatorial Club's owner, Alvin Honey, that he hasn't just wasted a lot of money. Alvin isn't convinced.
HONEY: WHERE THE HELL HAVE YOU BEEN, KARASSUS? IT'S THE LAST CIRCUS OF THE SEASON NEXT WEEK AND WE'RE JUST...
KARASSUS (CUTS HONEY OFF): TWO POINTS SHY OF MAKING THE MATCH OFFS, I KNOW, ALVIN – HOW COULD I NOT KNOW?
KARASSUS (JOIN): I'M YOUR CHIEF GENE-WEAVER, AND I TOLD YOU THAT THIS NEW PROCESS ISN'T WORKING. IT CAN'T WORK, ALVIN – I TOLD YOU...
++++
PAGE FOUR, FRAME TWO: Alvin is angry at Karassus – Dr Barla is trying to make herself unobtrusive.
ALVIN: DAMN IT, ELDIRION, YOU WENT AND DID IT, DIDN'T YOU? AFTER I SPECIFICALLY FORBADE IT!
KARASSUS: IT WAS THE ONLY WAY! AFTER YOU LISTENED TO THAT IDIOT CRANWELL...
++++
PAGE FOUR, FRAME THREE: Alvin is now beyond anger – he's moved on to economics, and the economics of the situation are suddenly looking very grim indeed. Karassus is motioning for the reluctant Dr Barla to help him remove the tarpaulin from the Gestation Pod.
ALVIN: BY THE BLUE... YOU DON'T EVEN DENY IT! TELL ME YOU DIDN'T SPEND ALL THOSE CALORIES?
KARASSUS: NOT ALL, NO – ABOUT 85%, MAYBE... DR BARLA – A HAND, PLEASE?
ALVIN (JOIN): OVER TWO MILLION CALORIES – THAT'S IT, THE CLUB'S RUINED! THAT'S ALL THERE WAS TO SEE US THROUGH THE OFF SEASON!
++++
PAGE FOUR, FRAME FOUR: Dr Barla and Karassus remove the tarpaulin. We can't see inside yet but Alvin can – and is suddenly captivated.
KARASSUS: ALVIN, LOOK AT THEM. JUST LOOK.
ALVIN: I DON'T WANT TO LOOK! WHAT GOOD ARE A HANDFUL OF CELLS TO US NOW? WE NEED...
ALVIN (JOIN): ...WE NEED...
ALVIN: ...FORNICATING HADES...
++++
PAGE FOUR, FRAME FIVE: Karassus points out features to Alvin that we can't see. Alvin has detected a fairly large glimmer of hope.
KARASSUS: JUST TWO DAYS AGO THEY WERE NOTHING MORE THAN A HANDFUL OF CELLS. NOW LOOK AT THEM!
ALVIN: THEY... THEY LOOK LIKE...
KARASSUS (JOIN): THAT'S BECAUSE THEY ARE, ALVIN! WHAT DID I TELL YOU? LOOK AT THEIR SKIN, FOR A MESSIAH'S SAKE!
++++
PAGE FOUR, FRAME SIX: Alvin is suddenly disturbed by what he's seeing (which we still can't see).
ALVIN: WHY ARE THEY... QUIVERING LIKE THAT?
KARASSUS: I'M NOT SURE – BUT I THINK IT'S SOME KIND OF TRAINING, SIMILAR TO OUR OLD IMPRINTING TAPES.
KARASSUS (JOIN): AND THE WAY THEY'RE DEVELOPING, THEY'LL BE HATCHED IN TWO, MAYBE THREE DAYS AS FULLY FUNCTIONAL WARRIORS.
++++
++++
PAGE FIVE (6F).
PAGE FIVE, FRAME ONE: Back in Mindspace. The Sergeant is standing in deep space, in the debris field left behind by a huge, destroyed space-battleship.
SERGEANT: EXCELLENT. YOU KNOW KNOW SEVENTEEN METHODS OF DESTROYING A KRAKEN-CLASS HYPERSTARDESTROYER.
SERGEANT (JOIN): COMBAT EXPERIENCE MODULE THREE AND ALL SUB-UNITS COMPLETED SATISFACTORILY.
SERGEANT: MOVING ON.
++++
PAGE FIVE, FRAME TWO: The Sergeant stands at ease in front of three virtual Bio-Chips (as tall as the Sergeant in the Mindspace and lettered A, B and C).
SERGEANT: YOU ARE READY, TROOPERS.
SERGEANT: WHAT ARE YOU?
++++
PAGE FIVE, FRAME THREE: The imaginary Bio-Chips stand proudly to attention. The Sergeant is proud.
ALL BIO-CHIPS: SIR SOLDIERS SIR!
SERGEANT: EXCELLENT!
++++
PAGE FIVE, FRAME FOUR: The Sergeant begins his final address.
SERGEANT: AS YOU KNOW, YOU WERE DESIGNED TO BE DROPPED AND MATURED BEHIND ENEMY LINES BUT THE TRUTH IS I CAN'T TELL YOU WHO THE ENEMY IS.
SERGEANT: ALL MILITARY FREQUENCIES ARE DEAD AND THE ONLY COMMS APPEAR TO BE DEDICATED ALMOST ENTIRELY TO ENTERTAINMENT.
++++
PAGE FIVE, FRAME FIVE: The Sergeant begins to fade away as the pod computer shuts down the hologram and the Mindspace.
SERGEANT: YOU HAVE DETAILED KNOWLEDGE OF WHO THE ENEMY MIGHT BE AND THE EXPERIENCE AND TRAINING TO DEFEAT THEM.
SERGEANT: I HAVE PREPARED YOU AS WELL AS ANY SOLDIER CAN POSSIBLY BE PREPARED.
SERGEANT (JOIN): THE REST IS UP TO YOU.
++++
PAGE FIVE, FRAME SIX: The Sergeant fades to almost nothing. The Mindspace begins to dissipate like a black mist.
POD COMPUTER: TRAINING COMPLETE. DEACTIVATING DRILL SERGEANT.
SERGEANT (FADING): GIVE 'EM HELL, TROOPERS!
POD COMPUTER: MATURATION CYCLE COMPLETE. INITIATING BIRTHING SEQUENCE.
++++
++++
PAGE SIX (1F, TITLES.).
PAGE SIX, FRAME ONE: The Three Genetic Infantry clones stand ready, 'hatched' and fully matured. Unconcerned. Cool. Completely naked and not the least bit bothered by it (I don't see them as having genitals, having been designed to not need them – they're like Action Man dolls in that regard). It is maybe two days since Karassus and Alvin last spoke and they are both present for the 'birth' – standing momentarily stunned. (Abel is the leader, most like the original Rogue Trooper. Baker is the shock-trooper, the biggest and toughest. Charlie is like Venus Bluegenes, the engineer and medic (she has a pouch in her stomach where she can grow replacement organs and such for herself and the others). All three are next-gen G.I.s, with heightened abilities - including the ability to change their skin pigmentation into virtually any pattern from tiger stripes to leopard spots to pulsating octopus patterns - but only in various shades of blue.)
ABEL: ORDERS, SIR?
STRAP: NEXT: TELLY SHALL HAVE US.
++++